Novo Fogo Organic Cachaças
Discover our brazilian fresh cane spirits handcrafted in the Brazilian rainforest
FROM BRAZIL, WITH PASSION
Passion Fruit Cachaça
SOFI TUKKER DRINKEE
Passion Fruit Cachaça
SOFI TUKKER DRINKEE
From the minds of the multi-Grammy nominated dance music superstars SOFI TUKKER comes this organic, forest-friendly sugarcane spirit. To create it, we infused our Silver Cachaça with passion fruit, orange peel, vanilla, pure cane sugar, and oak flavors from our barrels, creating a harmony of beloved Brazilian flavors.
750 ml | 40% ABV
"I am beyond proud of where this product ended up. It feels surreal to have been in the Atlantic Rainforest in Brazil testing the different ingredient combinations to make the perfect passion fruit cachaça. It truly tastes the way our song 'Drinkee' sounds, and the way Brazil makes us feel. So excited for everyone to try it!" – Tucker Halpern
Core Spirits
These three expressions prove that artisanal cachaça can be enjoyed in clear, amber, and brown forms. All begin with the same distillate and absorb different characters as time passes. If we made tequila, these would be our silver, reposado, and añejo versions.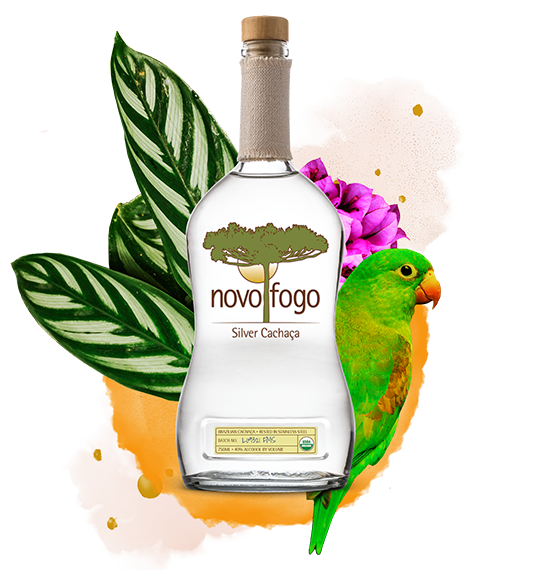 Silver Cachaça
The purest representation of organic sugarcane from Southern Brazil, this silver cachaça proves that terroir matters. The aroma of bananas immediately present, followed by pleasantly floral rainforest notes that shine through the spirit. Sea salt balances the cachaca's tropicality, adding a savory quality and settling the overall impression to a mouth-watering sweet red pepper. This cachaça is rested in chemically-inert stainless steel tanks for one year to smoothen it without changing its flavor.
750 ml | 700 ml | 50 ml | 40% ABV
Chameleon Cachaça
Our "Chameleon" expression marries the savory identity of our Silver Cachaça with the vanilla notes of our oak-kissed Barrel-Aged edition. It's aged for one year in repurposed American oak barrels, just long enough to reach mixability peaks without losing its rainforest and sugarcane funk. A hazelnut nose is continued with sweet and spicy herbs in the palate and finished with lively citrus. From tiki drinks to stirred aperitifs, this versatile cachaça is the bartender's friend.
750 ml | 700 ml | 50 ml | 43% ABV
Barrel-Aged Cachaça
Our barrel-aged cachaça is distilled in 53-gallon American oak bourbon barrels that are taken apart, sanded, and re-toasted. The 2-3 year process takes place in the heat and humidity of our home in the Atlantic Rainforest. The result? Banana bread with notes of chocolate, cinnamon bark, and coffee. Nuances of pepper remain, but the cachaça's time spent in wood changes its spiciness from fresh red pepper to toasty black pepper.
Check out some incredible Novo Fogo cocktails!
Check out this article on how to use our Cachaça in cocktails.
750 ml | 700 ml | 50 ml | 40% ABV
Two-Woods
These special release cachaças serve as our platform to raise awareness for rainforest conservation. Aged in American oak and finished in Brazilian woods, our Two-Woods Cachaças prove that truly delicious spirits are worth making sustainably for future enjoyment.
Tanager Cachaça
Our "Tanager" expression is the first two-woods cachaça broadly available in the USA and it mixes the Brazilian South's two favorite woods. We age this cachaça in repurposed oak barrels and finish it in casks of arariba (Brazilian zebrawood) for a natural red color and a distinctive mountain earthiness. This truly unique cachaça suggests tropical fruit, grass, cinnamon bark, and other holiday spices; it can be sipped alone or as the base spirit in twists of classic cocktails like the Sazerac.
750 ml | 700 ml | 50 ml | 42% ABV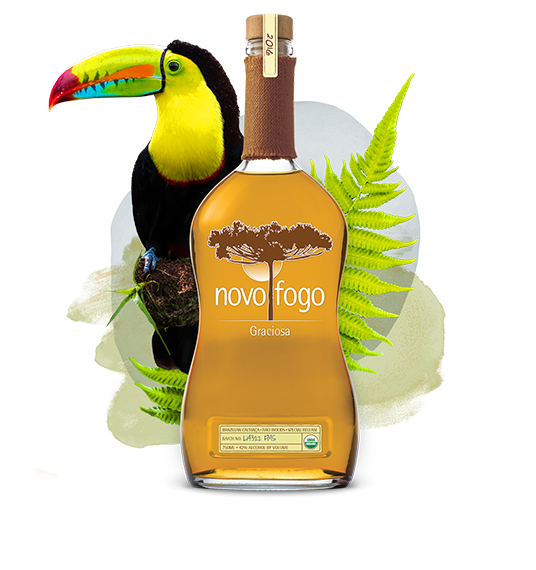 Graciosa Cachaça
Graciosa is a reflection of our love for the rainforest and the historic road that crosses it on its way from the mountains to the ocean. This expression is aged for 2 years in repurposed oak and finished for 18 months in castanheira do Pará (Brazil nut) barrels, lending it a vibrantly aromatic yet creamy disposition: starting with pecan and orchids on the nose, the palate morphs into cherry custard and finishes with pleasant notes of soft clove and anise.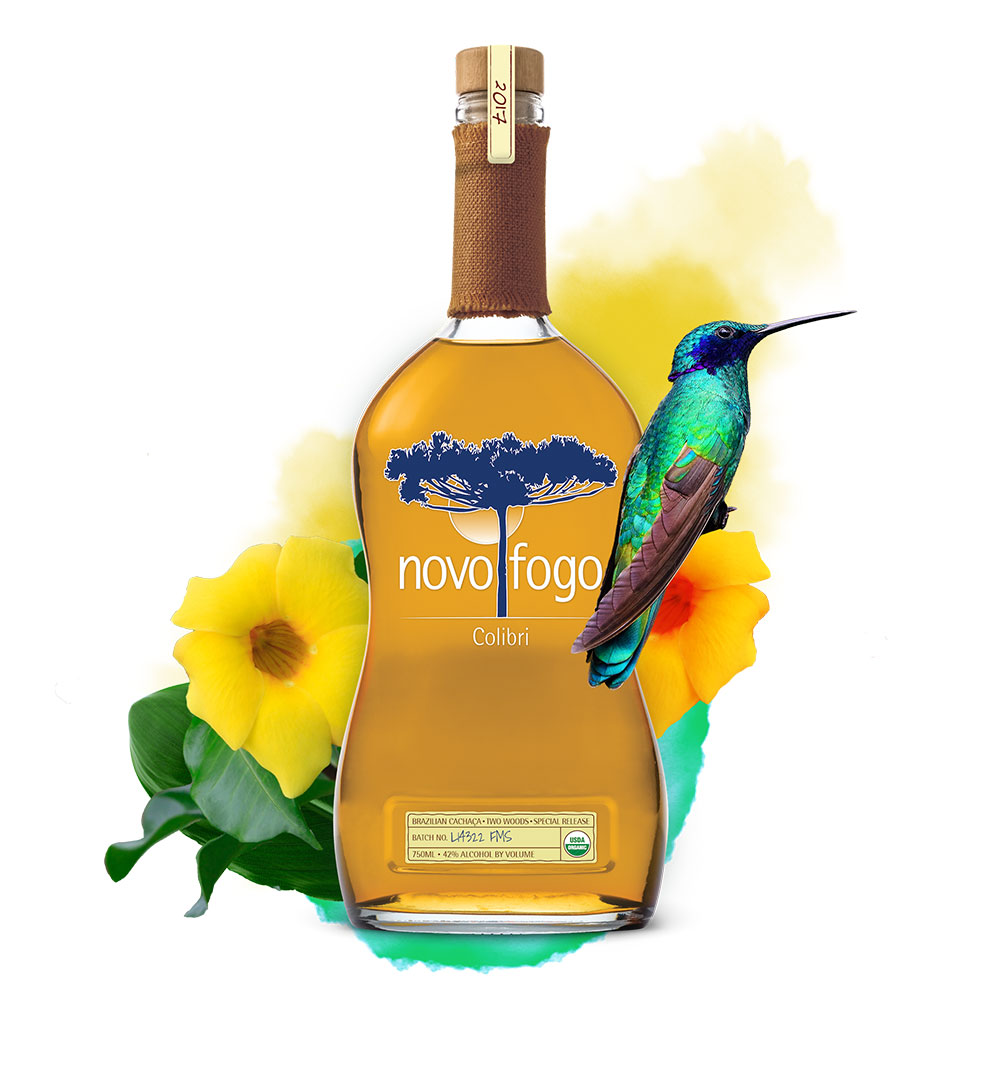 Colibri Cachaça
To mature the Colibri expression ("hummingbird" in Portuguese), we moved the cachaça back and forth over the years between repurposed oak barrels and amburana (Brazilian teak) barrels. The predominant spices of vanilla and toffee (from the oak) and cinnamon and chestnuts (from the teak) come together in a balanced expression that also includes tropical fruit such as banana and passionfruit but finishes playfully with notes of snickerdoodle.
Ready-to-Drink Canned Cocktails
Leave the mixing to us! Our range of canned cocktails highlight the same organic cachaça that's in the bottle. Full of flavor yet not too sweet, these canned craft cocktails provide instant tropicalization.
Trade-Focused
Products
We designed these expressions for folks at bars, restaurants, and retail stores looking to elevate their cachaça offerings.
Bar Strength Silver Cachaça
Bar Strength Silver Cachaça
This expression embodies the best characteristics of our standard Silver Cachaça—banana, passion fruit, lime blossoms, sweet red peppers, and sea salt—and intensifies them in a higher-proof liquid. The end result is a potent but clean cachaça that takes the leading role in a broad range of cocktails, from sours to tiki drinks and twists on classics. We completely redesigned the 1-liter bottle for bar and bartender with a smaller, circular footprint, a taller neck, and a slimmer midsection so that it fits in the well and is easy to handle.
Check out some incredible cocktail recipes with our Silver Cachaça!
More volume. Higher proof. Better ergonomics.
A CARBON-NEUTRAL SPIRIT FROM TRUE ORIGIN TO DESTINATION
In addition to its functional benefits for bars and bartenders, Novo Fogo Bar Strength Cachaça was created to be foremost an exceptional distilled spirit with a minimal environmental impact, no matter how far it travels from Brazil to its final destination in a cocktail.
As the producer of the cachaça in the bottle, Novo Fogo is a carbon-negative company. Through our business practices of waste minimization, organic production, the ownership and management of forested land, a growing reforestation project for threatened tree species and the purchase of carbon offsets, Novo Fogo absorbs more CO2 than it emits. However other companies in a global supply chain are also necessary to bring this new product to the market, and designing Bar Strength Silver Cachaça offered us an opportunity to understand and take responsibility for the indirect carbon footprint of these upstream and downstream companies as well.
In the world of carbon emissions, these terms refer to the types of carbon emissions along a company's supply chain:
Scope 1 emissions are the direct emissions from resources we own and control, like the tractor on our farm and the furnace that burns the sugarcane pulp at our distillery.
Scope 2 emissions are the indirect emissions generated by the utility provider that sells us electricity. In our part of Brazil, energy is generated at a hydroelectric power plant.
Scope 3 emissions are all the indirect emissions in the supply chain that are linked to our company operations. Upstream, they include emissions associated with the packaging, glass bottles, and other components we buy from other companies. Downstream, they include emissions associated with storing and transporting our products to retailers and restaurants.
Our calculations include activities by suppliers and distribution partners above and below Novo Fogo's own activities, such as the production of the glass bottles, labels, corks, and cases, ocean and land freight, distributor warehouse utilities and fuel, sales and delivery activities, etc. Unsurprisingly, Novo Fogo's activities generated only 21.5% of the total emissions created in the supply chain of this product; the rest were emitted by our suppliers (45.9%) and distribution network (32.6%). We totaled these numbers and purchased carbon offsets to bring the net to neutral for the entire supply chain. The detailed calculations are included with each case of Bar Strength product, and here is a summary:
| CATEGORY | CO2 EMISSIONS PER CASE | % OF TOTAL |
| --- | --- | --- |
| UPSTREAM | 5.37 kgs | 45.9% |
| NOVO FOGO | 2.52 kgs | 21.5% |
| DOWNSTREAM | 3.81 kgs | 32.6% |
| TOTAL | 11.69 kgs | 100.0% |
Here is another view that shows the types of activities that their impact to the total carbon footprint:
| CATEGORY | CO2 EMISSIONS PER CASE | % OF TOTAL |
| --- | --- | --- |
| PRODUCTION – NOVO FOGO | 2.52 kg | 21.5% |
| PRODUCTION – SUPPLIERS | 3.11 kg | 26.6% |
| FREIGHT | 5.58 kg | 47.8% |
| WAREHOUSING | 0.49 kg | 4.2% |
| TOTAL | 11.69 kg | 100% |
Through Native, our partner offsets provider, Novo Fogo's carbon offset purchases financially support a project that provides water filters for 2,000 coffee-growing families in Honduras, eliminating their need to cut and burn trees for boiling water. This ultimately preserves the fragile local forest habitat and thus satisfies two core tenets of Novo Fogo's sustainability foundation: carbon management and forest preservation.
Novo Fogo also contributes $3 per case of all of all our bottle sales to The Un-Endangered Forest project, a program that works to remove 36 species of native Brazilian trees from the threatened list. Each bottle is made from recycled glass and the neck wrap is repurposed from plastic collected from the streets of São Paulo, Brazil.
Single Barrel Cachaça Program
Single Barrel Cachaça Program
Novo Fogo specializes in barrel-aging cachaça in the tradition of the Brazilian south, using repurposed American oak bourbon barrels. Each barrel is unique in character and holds an average of 240 bottles of cachaça at an ABV of 46%.
Custom medallion label with your logo
Neck booklet with information about the barrel
Shelf talker with information about the barrel
Boilermaker boards (6) engraved with your logo
Engraved corks with your logo
The original barrel head with Novo Fogo logo
WANT TO GET A BESPOKE SINGLE BARREL OF AGED CACHAÇA FOR YOUR BAR OR STORE?
Caipirinha Kit
The beloved Caipirinha: it takes a bit of cachaça, a lime, some sugar, a muddler, and a shaker. But sometimes, the hardware is out of reach, causing much distress to Caipirinha fans everywhere. For those times, we made this handy kit that includes just about everything needed to feel human again. Silver Cachaça. Muddler. Two jars for shaking and drinking. Ripe limes not included.
750 ml |  2 mason jars | 1 custom muddler| 40% ABV
Novo Fogo Cachaça Shirts
You'll never misplace the recipe for a Caipirinha while wearing this super soft T-shirt. Proceeds go to support The Un-Endangered Forestproject. Read more about our project to save 36 species of Brazilian trees here.